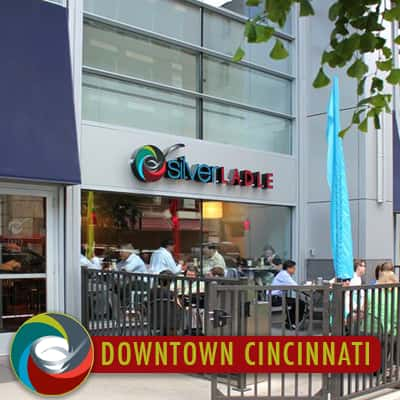 About Us
Silver Ladle is a Fast Casual Restaurant specializing in homemade Soups, Chilies, Gourmet Sandwiches, and Salads. We are located in the Downtown Cincinnati Central Business District (on Sixth Street between Main & Walnut).
Silver Ladle Downtown opened in March of 2012 and proudly presents a multi-faceted menu that offers affordably priced options with an emphasis on quality and consistency, with a focus on the health conscious diner. The restaurant is innately comfortable and the food is served in a timely and convenient manner. The interior design accommodates both the professional in a hurry, as well as the casual diner who has time to catch a few minutes of the big game.
Our entire menu is available for carry-out service as well as catering/delivery. Have us cater your next event! All of our menus can be tailored to meet your group's specific needs. We specialize in all types of menus ranging from boxed lunches to chili bars. The Silver Ladle Team looks forward to seeing you soon! Stop in and see what all of Downtown is talking about. Whether you are dining in, carrying out, or we are bringing it to you, it is guaranteed to be good food…fast.
Our Features

Pick Two Lunch option
Home of the Chicken Chili
Catering and Delivery available
Quick service
Silver Ladle's commitment to quality and excellence led to citywide acknowledgment when it captured two Best of the 2013 Taste of Cincinnati Awards; the Chicken Chili received "Best Entrée" and the Cuban Black Bean Soup received was acknowledged for "Best Appetizer."


Awards We Have Won